Costa Concordia: How cruise ship tragedy transformed an island paradise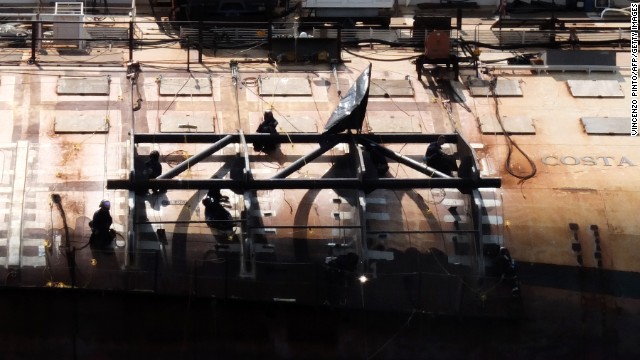 Wheeling Central went three-and-out with the next possession forcing Henry to punt from his own 22. Nero gathered in the pigskin at his own 37 and wasn't stopped until he got caught from behind at the Maroon Knights 5. On the first play from scrimmage, Comis called a quarterback draw and went untouched into the end zone making the score 13-0. The Maroon Knights were threatening with drive to the Madonna 28 when senior running back C. J. Burch let the ball get loose and it was Grant Retton that got on it at the Madonna 31for the opportunistic Blue Dons. "They (Madonna) played outstanding," veteran Maroon Knights coach Mike Young said. "They jumped on us early. Our four turnovers in the first half definitely increased their effort. Hats off to them and their coaches. They definitely deserved to win this game tonight." Comis ran for 4 yards and Nero wheeled through the Maroon Knight defense for 53 yards to the Wheeling Central 12. On the next play, Comis showed his shiftiness by zig-zagging through the Maroon Knight defense. Taylor chose to run for the two-point conversion and called Nero's number to get the job done giving the Blue Dons a 21-0 lead.
'Are you with me?' Madonna dons a blonde wig and black bra in violent third teaser for Secret Project
The 55-year-old singer has revealed a third look at her Secret Project collaboration with photographer Steven Klein – and the 46-second teaser mixes politics, S&M and violence. The black and white trailer begins with Madonna staring at the viewer through the bars of a jail cell, with immobile face and wearing a shiny dark coat and blunt-cut blonde wig. Scroll down to view video… Pleasure and pain: Madonna delivers another memorable performance in a third teaser for her Special Project with photographer Steven Klein In voice over Madonna can be heard singing, 'Let freedom ring… are you with me?… art for freedom.' In another scene a writhing Madonna is shown being caressed by a muscular shirtless man while wearing a midriff-baring black brassiere with tassels attached to it. The teaser escalates into more violent territory as Madonna is dragged mercilessly through a dark-lit alley before being thrown face-down on the floor of a jailhouse cell. Madonna jailed in violent in third teaser for Secret Project From the inside looking out: The 46-minute montage begins with Madonna in blonde wig and starring through the bars of a jailhouse cell It's rude to point: The 55-year-old singer is shown wearing a pointy bra attached with tassels and a corset as she's being strangled by a shirtless man Dark alley: The black and white trailer escalates into violence as Madonna is rough handled by two jailhouse guards in an alley The final scene announces 'September 24,' which presumably is meant to indicate the date of the short film's debut. The 'Secret Project' is reported to also feature Lady Gaga, Rihanna and Cher. Madonna has been sending out visual teases using provocative photos via her Instagram account. Down the corridor: Madonna sings in voice over, 'let freedom ring' Tossed: The guards literally throw Madonna into a stark cell Klein is reported to have tweeted to Cher back in December, writing: 'This is Steven Klein Photographer. I am doing a secret project that is political and artistic. Its time that we work together,' And he is claimed to have told Rihanna: 'I am doing a secret project that we can do and we can go off the charts and be wild @rihanna #secretproject.' In June, the first trailer was released showing Madonna holding a gun and pointing it at a man's head execution-style. Down and out: Madonna is thrown face-down onto the hard concrete floor of a jailhouse cell Moody: Steven Klein's artsy photography shines through in scenes such as this one She then straddles a man in what looks like a police cell and holds the gun above his head. A second teaser released in July shows Madonna talking about revolution, democracy, history and fascist dictators while the camera slowly pans around a group of scantily-clad dressed men and women. 'We are becoming more and more afraid of people who are different,' she says at one point. 'People are becoming more and more intolerant.
The sunken Costa Concordia remains in the calm blue waters on January 12, 2013, the day before the disaster's one-year anniversary. A man works in front of the shipwreck on January 12, 2013. A couple walks along the port of Giglio at night on January 12, 2013. A man sits in his boat in front of the half-submerged cruise ship on January 8, 2013. Cranes and floating decks surrounding the ship light up the dusk sky on January 9, 2013. Workers stand on the edge of the ship on January 8, 2013. A crew passes by the hulking remains on January 7, 2013. People enjoy a day in the sun with a view of the cruise liner on July 1, 2012. Technicians work during an operation to pump out 2,380 tons of fuel from the stricken ship on January 25, 2012. Workers head toward the stricken cruise ship on January 23, 2013. Military rescue workers approach the cruise liner on January 22, 2012. Members of the Italian coast guard conduct a search-and-rescue mission on January 21, 2012. Rescue operations to search for missing people resumed on January 20, 2012, after being suspended for a third time as conditions caused the vessel to shift on the rocks. The Costa Serena, the sister ship of the wrecked Costa Concordia, passes by on January 18, 2012.